Size
The nine largest firms in Colombia are home to over 800 lawyers; 49% are women. These firms have sustained steady growth during the last 10 years. Posse Herrera Ruiz nearly doubled its size in a decade, while most maintained a steady 20-35% growth during the same period.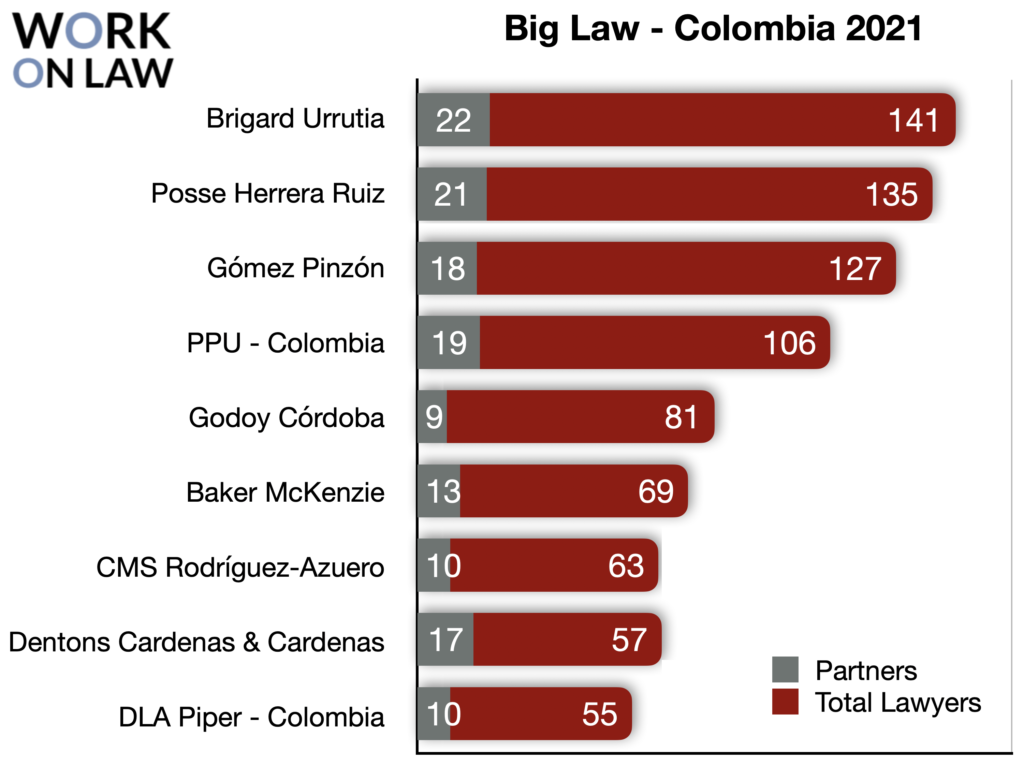 Female Partnership
Women represent 28% of Big Law partners. At 54%, Baker McKenzie has attained the highest ratio of female partnership in Colombia.
Law Schools 
67% graduated from one of these three universities:
1º Universidad de los Andes *
2º Pontificia Universidad Javeriana **  
3 Universidad del Rosario ***
* Ranks 1st at Gómez Pinzón with 28% of lawyers; Baker McKenzie (46%); and DLA Piper Colombia (38%).
** Ranks 1st at Brigard Urrutia with 29% of lawyers; Godoy Córdoba (25%); and Dentons Cardenas & Cardenas (30%).
*** Ranks 1st at Posse Herrera Ruiz with 25% of lawyers; PPU PrietoCarrizosa Ferrero DU & Uría (32%); and CMS Rodríguez-Azuero (27%).
It may seem like few law schools have managed to captivate the Colombian legal services market; however, when compared to Mexico or Chile, the numbers tell a different story. In Chile, one single law school secured the lion's share of Big Law's talent. A staggering 54% of large law firms partners and associates call Pontificia Universidad Católica de Chile their alma mater.
Read more on the Canadian legal market: "Law Schools that will land you a job on Bay Street"